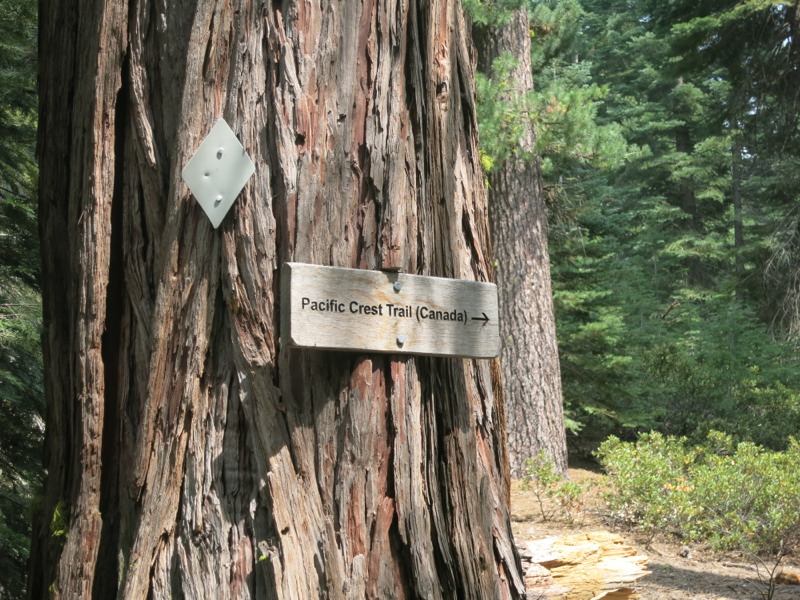 We slept in this morning, making for a wonderful and uninterrupted 11 hours of sleep – the most we've had in a very long time. We really needed it. After packing up and checking out we went over to a diner in a gas station for lunch. Despite the dubious location, the online reviews steered us right and our sandwiches and fries were delicious. After one more milkshake from the Pine Shack Frosty we got in touch with a local trail angel and secured a ride back to the trail. This was great because we had been expecting a very difficult hitch from town. Piper's Mom is another one of those kind people who host hikers and haul them around like she did for us. Her daughter hiked the trail a few years ago and wrote a book about it. They are both regular posters on the PCT-L mailing list and it was wonderful to meet Meredith in person.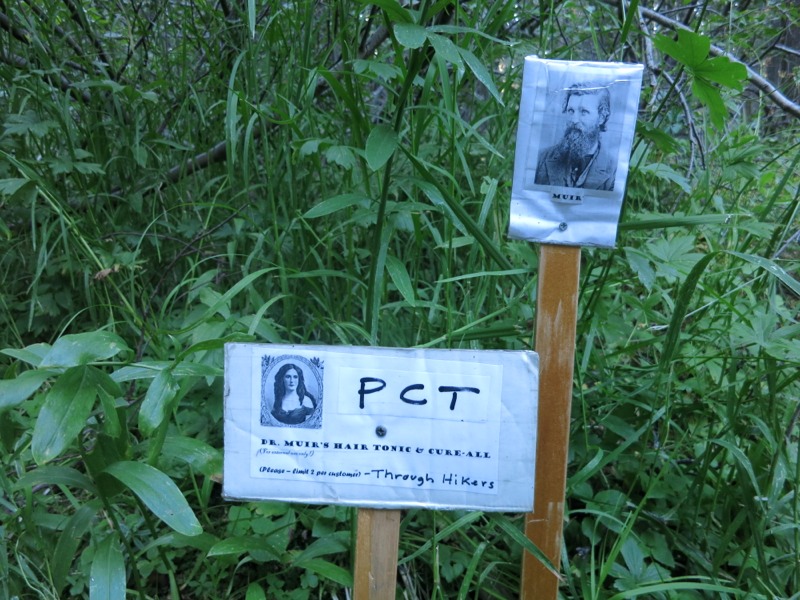 A cool breeze was blowing as we started north again and we were glad that yesterday – much hotter than today – had been our day off. We hiked through dense forest and open, manzanita-filled meadows. Narrow dirt forest roads criss-crossed our path. It's strange to think that we didn't cross any in the Sierra, then a few near Tahoe, and now (in logging country) we never seem to be very far from one.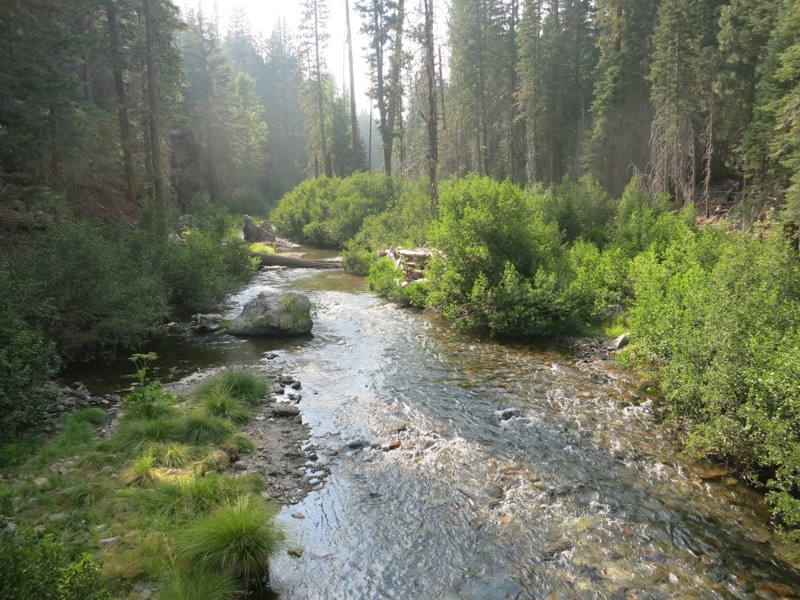 We came to a ridge that looked out west over a sea of pines towards Lassen, which slouched low on the horizon. Our view was obscured by a heavy haze. We hoped it was due to the weather and not a nearby fire. Eventually we reached the north fork of the Feather River, the same river that ran past Belden. It was much smaller now but still had a respectable enough flow to earn a wooden bridge. While taking a break on the other side, we watched a quail and her chicks make their way over the deadfall and through the tall grasses along the riverbank. Later, while passing a meadow, we startled two large birds that looked like turkeys but sounded more like honking swans.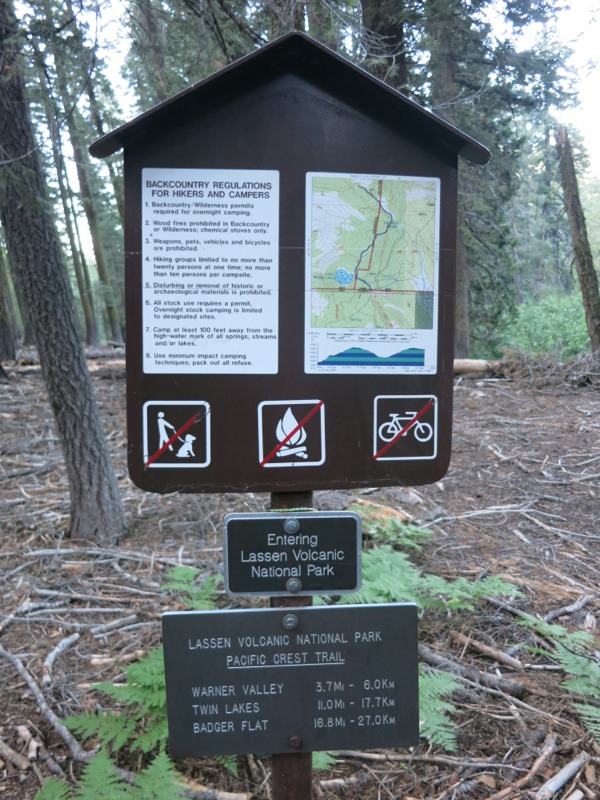 Near the end of the day we crossed into Lassen National Park, our 4th of the 7 national parks we'll hit on this trip. Lassen is volcanic and this has already shown itself in the red, porous rocks and very fine dust we've been encountering the last few days. It was also evident in the highlight of today's hike – a short side trip to the Terminal Geyser. A quarter mile down a spur trail, we rounded a corner and came out of the forest to see clouds of steam billowing out of a small canyon. The air was filled with rotten egg sulfur stink.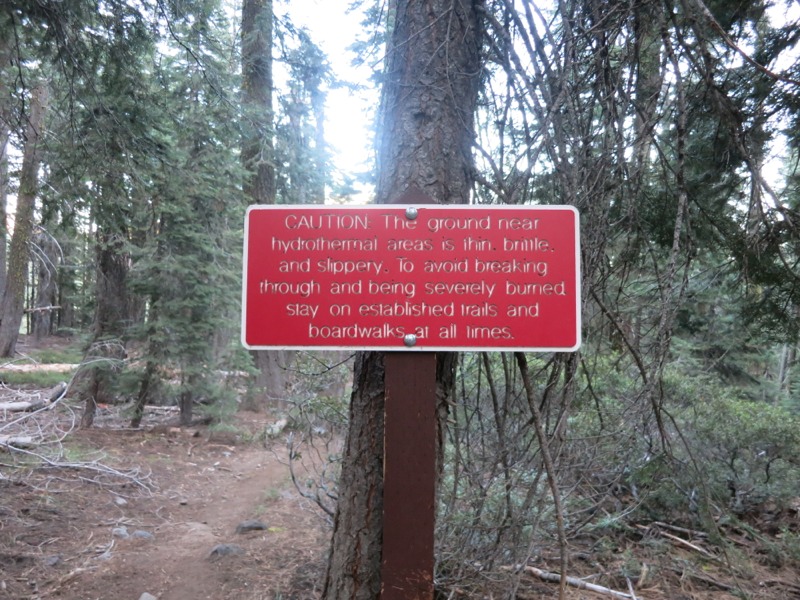 As we got closer we could see pools of boiling water, but we still couldn't tell exactly where the steam was pouring out of the ground – there was too much of it. With all the warning signs and blinding, stinky smoke we were reluctant to get too close. The entire thing roared like a jet engine. A small creek trickling out and down the hill was cloudy and lined with orange mineral deposits. It wasn't too hot to touch, but it would have been too hot to bathe in. Neither of us had ever seen a geyser before and it was incredible to be able to get right up close.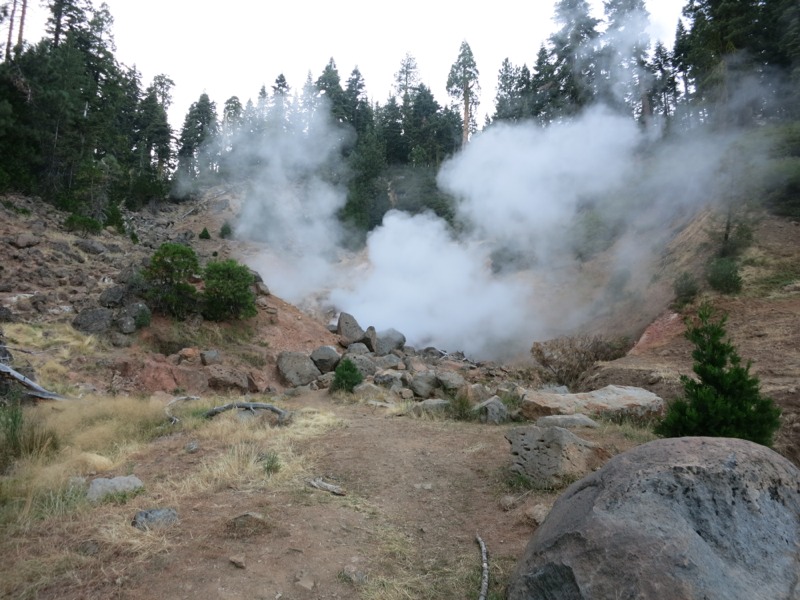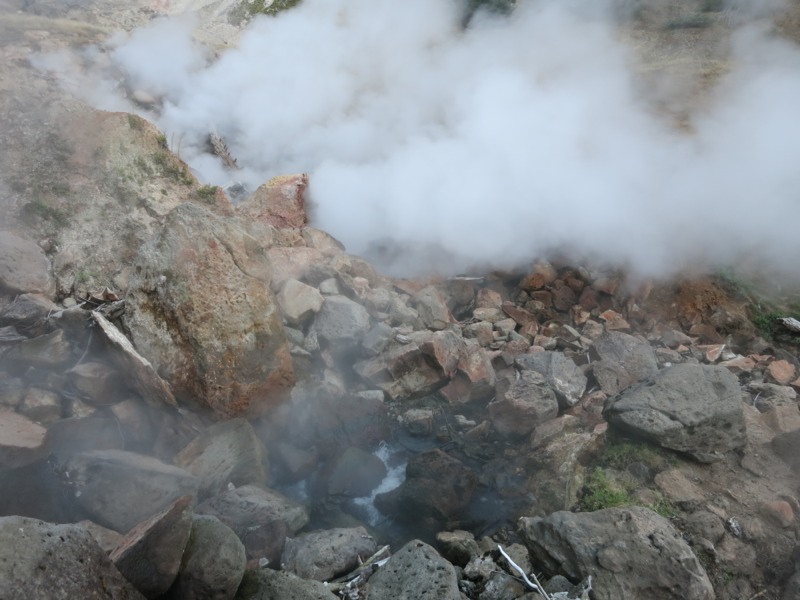 After this short but amazing side trip we set off for another mile or so of hiking to get some uphill out of the way for tomorrow. We'll be getting breakfast at the Drakesbad Ranch tomorrow and wanted to get within a mile or two for a short hike in. We are camped on the edge of a forested ridge, overlooking another sea of trees and the distant ridges to our north. We can see Lassen if we crane our necks to the left. Soon it will be in our rearview mirrors and we'll be watching Shasta get bigger and bigger.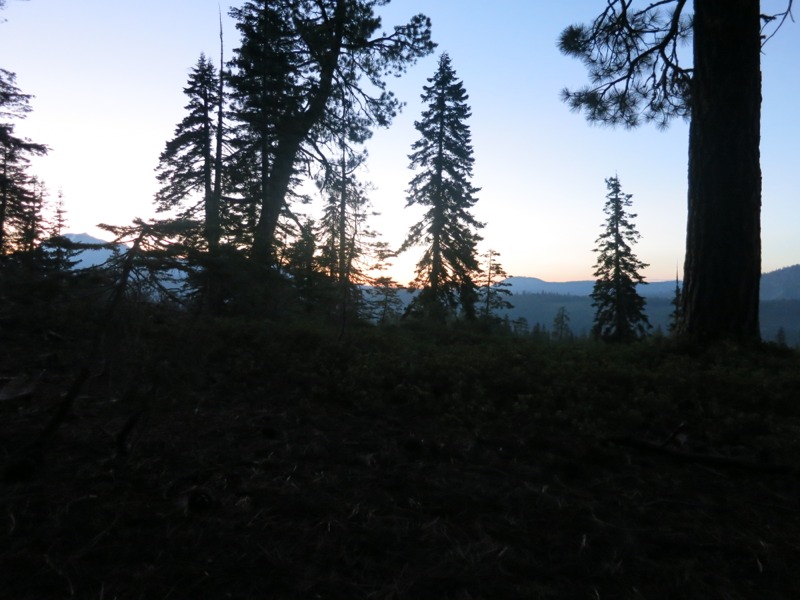 – Posted from the PCT
Location:Pct mile 1352