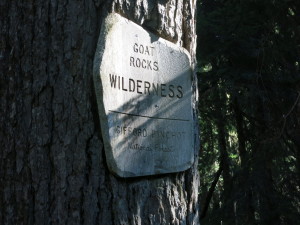 Today we crossed into one of the most anticipated and scenic sections of the entire trail – the Goat Rocks Wilderness.  This is what hikers look forward to once they leave the Sierra Nevada, through all the dry and viewless parts of Northern California and Oregon.  Despite having spent three weeks on the John Muir trail in some of the most beautiful backcountry we've ever seen, this area still blew us away.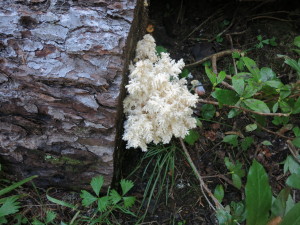 We started with about 10 miles of hiking through dense forest and scrub, playing peekaboo with some shallow and overgrown lakes.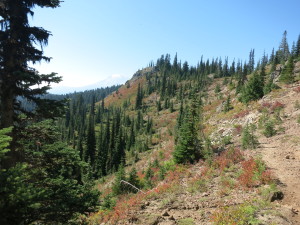 Shortly after crossing the wilderness boundary we looped around a peak to get another look at Mt. Adams, already noticeably smaller in the distance.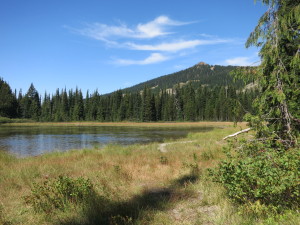 We took a break at a lake as the foliage began to thin out.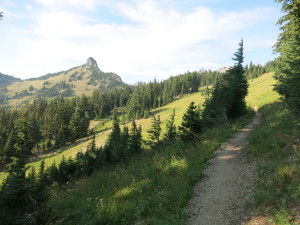 A climb was next on the list and we began to get a glimpse of things to come as we hiked along the narrow path cut into the side of a ridge. 7 more miles and a lunch stop brought us to the start of the real excitement.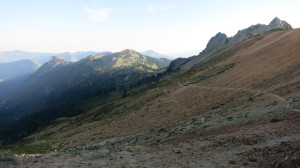 We negotiated an eroding section of trail by hopping over runoff channels, now dry, that had carved into the loose gravel across the trailbed.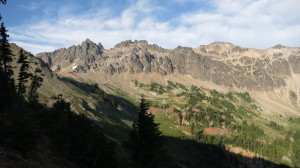 Suddenly we were at Cispus Pass, balanced on a ridge between one stunningly scenic valley and another.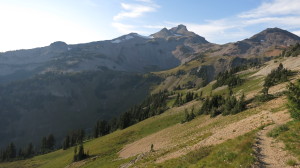 We started to encounter lots of people as we continued on – many more than we were used to! No real surprise considering the great weather, breathtaking landscape and the fact that it was a weekend.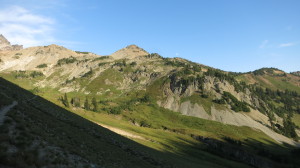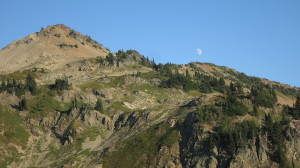 Other highlights included waterfalls within reach of the trail, little fairy-forest clusters of trees, a full moon rising just over a ridge, and best of all, a large herd of mountain goats!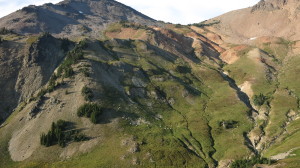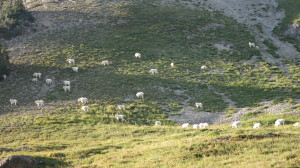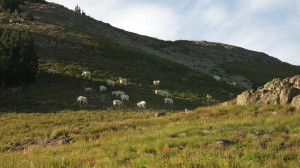 All day we had been joking about how we'd seen lots of rocks in the Goat Rocks but no actual goats.  They were shaggy, bright white with stark black horns and hooves, and somehow much larger than I'd expected.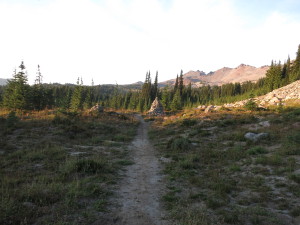 As we hiked on we passed groups of campers settling in for the night.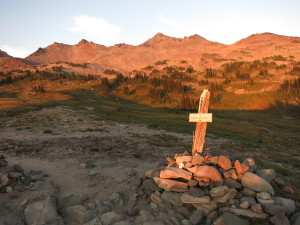 The setting sun was casting everything in a pink alpenglow as we came to our own little site out of sight above the other groups.  On an impulse we decided to cowboy camp since bugs wouldn't be an issue.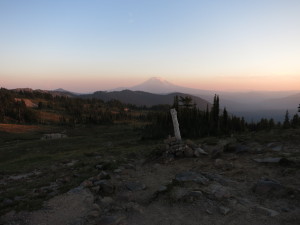 We sat in our bags watching the sun set as Mt. Adams disappeared in the dusk to our south.  This was an especially blissful day and we're in for even more spectacular scenery tomorrow…