We packed up quickly this morning with thoughts of breakfast on our minds. The cafe opened at 7 but we were delayed a little by the local cat Tick, who was sweet and handsome and wanted to be petted. We've seen lots of dogs on our journey but no cats since Agua Dulce and we were happy to oblige him for almost fifteen minutes. It made us miss our kitties back at home. When a day starts with a cat-loving session you know it's going to be good.
Breakfast was wonderful, although we skipped the infamous pancake challenge – five plate-sized pancakes, each weighing a half pound. If you eat it in two hours it's free. On average one hiker (champion eaters, of course) per season successfully completes it. Stuffing yourself with that much dense batter sounds like no fun at all. After cramming ourselves full of non-pancake breakfast we filled our water bottles and started off up the highway. This was an unexpectedly enjoyable town stop and we're very glad we stayed the night.
After walking the narrow shoulders of the highway for nearly a mile we were glad to get on the trail. Glad for a split second, that is – until it started going up. We were facing 4500 feet of gain over 8 miles. We climbed and climbed over well-maintained but unusually steep trail. The area we were climbing through was burned last summer, but although we didn't have much shade it was still early enough that the sun wasn't so fierce. We took it slowly. It reminded me a lot of the climb out of Belden except it was steeper and had fewer water sources along the way. After a mile or two we passed Fern Spring, dripping from a pipe into a nice concrete trough, and we wet down our bandanas and shirts. I felt better than I had since getting sick and Keith held up well with a runny nose but no real cough.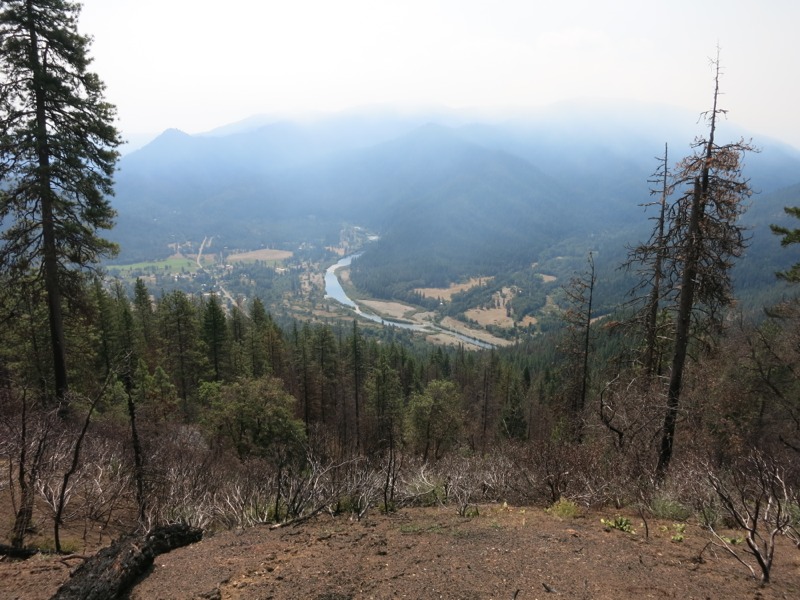 This and a breeze kept us pretty comfortable as we climbed ridge after ridge. At the end of one switchback we met a rattlesnake – the fifth we've seen on trail and the first since Walker Pass over a thousand miles ago. Maybe this is how California says goodbye: with a cute cat and a deadly snake. We reached Lookout Spring near the top of our climb with the worst of it behind us and took a snack break before attacking the rest of it. Our views were hazy with more smoke but they got more and more impressive as we climbed. Finally we topped out on the main spine and followed its gently rolling crest for the next few miles to a marshy meadow.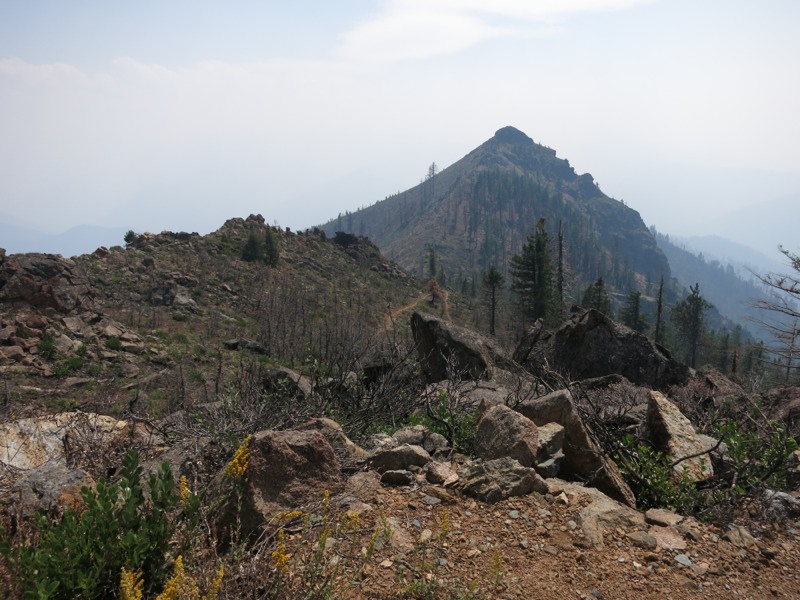 We took another break here and filtered water before moving on. On days where we can get a big breakfast we save time by not stopping for lunch – usually we stuff ourselves well enough to just snack for the rest of the day. We still took our time here to recover a bit from the morning before moving on. The next few miles were level or downhill, but after crossing a forest road we started another climb. This one seemed steeper and longer than had been indicated in the elevation profile…or maybe we were just sick of uphills.
It took us to the spine of another partly forested ridge. As the sun set the mountains to the east of the ridge faded to a deep purple. The spine on the western side was starkly outlined against the brilliant red-orange-pink sky. We hurried on, anxious to get to the upcoming spring and set up camp before it dusk turned into dark. Turns out the spring was only a trickle, and the nearby campsite was shoehorned into a tiny grove, but it would be just fine for the night.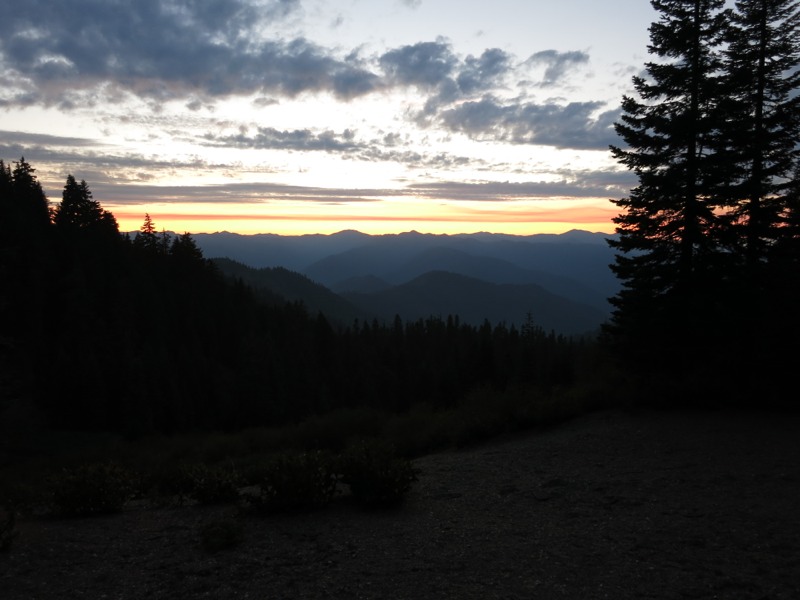 So many milestones! Today we left the last outpost of civilization in California. This morning our remaining miles to Canada dropped into triple digits…and it seems like we passed the halfway marker not that long ago. Tomorrow we will cross the border into Oregon, leaving behind the state that took us four months to hike through. Oregon and Washington are about 450 and 500 miles long, respectively. I have a feeling that our remaining time out here in paradise is going to slip through our fingers like so much fine volcanic dust. Before we know it we'll be facing real-life problems again.
– Posted from the PCT

Location:Pct mile 1683