We slept in a little this morning since we were up late and only had to make a few miles into town. We continued to be pleased with our tent – when we woke up there was no trace of condensation on the inside, which is often an issue with single-walled tents.
After packing up we set out for town with showers and burgers on our minds. It was windy, cloudy, and cool enough to start hiking with gloves and warm jackets. It felt like home! The trail was alternately gentle and hilly before settling into wide, dry cattle grazing plains. It was a novel experience to be able to see the path stretched out in front of us instead of ducking behind bend after bend. There were cowpies everywhere.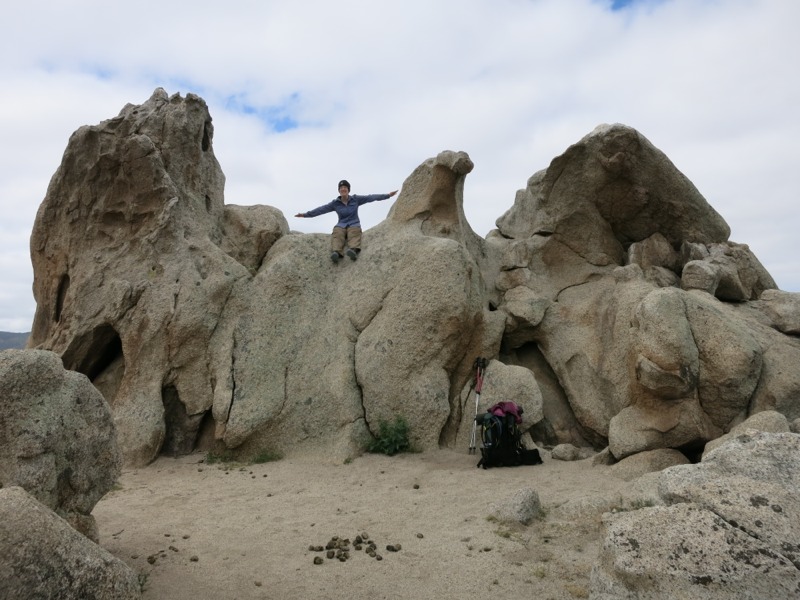 We made good time and took a break for the requisite picture at Eagle Rock along the way. I've been waiting a long time for that photo! The sun came out soon after and, just as before, started baking everything right away. Luckily we were entering a pleasantly shady stretch along a stream that made for nice walking. We finally saw the actual cows that had been scattering evidence of themselves all along our route. We passed some ladies out for a day hike who cheered us on to Canada. This town is obviously familiar with the thru-hiker herd!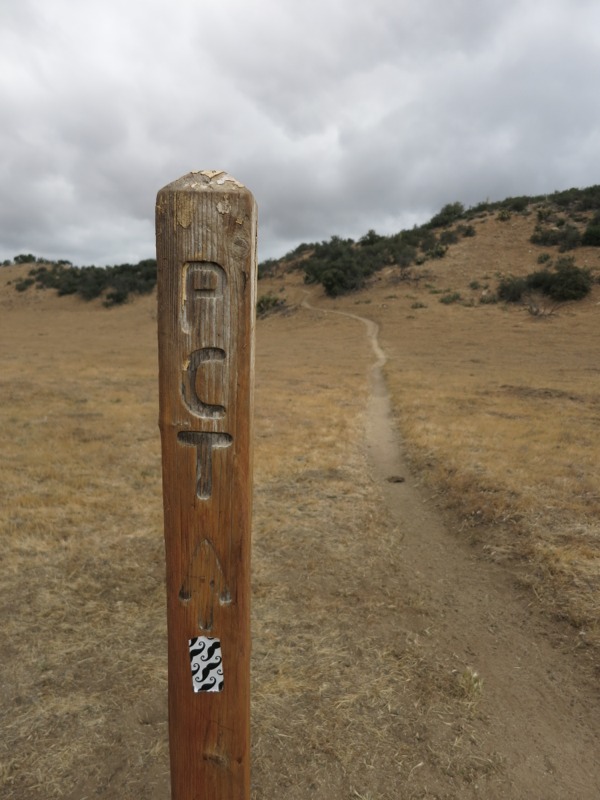 When we reached the community center it was like we had gone to heaven. Packs, gear and hikers in various states of cleanliness were everywhere. We walked in to be greeted with clean towels, washcloths, and little bottles of shampoo and soap. We were directed around back to the cavernous shower stalls, where we took off every stitch of filthy clothing and had the best showers of our lives. We were even able to scrub out our sweat-stained hats and gritty insoles. Our clothes went into the laundry to be returned to us a hour later, magically clean and smelling great. While we waited they cooked us cheeseburgers and we finally got what I had been craving for days – an ice cold can of soda! Ice cream sandwiches completed this feast of indulgence.
We sat around for a while talking to other hikers and doing a few satisfying chores. Even though we packed light on food we still had a few meals left over that we donated to the hiker box, much to the delight of some folks. I'm glad they could use them and hope they enjoy them. It was fun to talk to some folks we already recognize from the past week, and nice to get to know a few new faces. Everyone is so friendly and enthusiastic about what we're doing that it's even easy for introverts like us to make friends. We find ourselves suddenly members of a huge group with a common goal and shared obstacles and it's wonderful. The town folks putting on this show are amazing!
After settling our bill and making a donation (which could never fully express our gratitude) we got a ride to the post office to pick up our resupply box. We had a ride set up to get us back to Lake Morena, where we'll attend the annual PCT kickoff gathering tomorrow.
After a week on the trail, with section A under our belts, we are doing surprisingly well. Our feet are in great shape – a little sore, but no blisters, where some folks have turned theirs into hamburger. We are looking forward to a day off and to not having a schedule when we return to the trail. All this week we have felt pressured to get here in time for our ride, but after this we are only limited by the amount of food we have on hand and if we go slower than expected we can always buy more.
Yesterday we passed another personal record – we've now done more mileage than ever before on a trip! Our previous record was 93 miles last summer on the Wonderland trail. Our here we've done that much in 6 days – nearly half the time!
Looking forward to the kickoff tomorrow and meeting more new people…
– Posted from the PCT