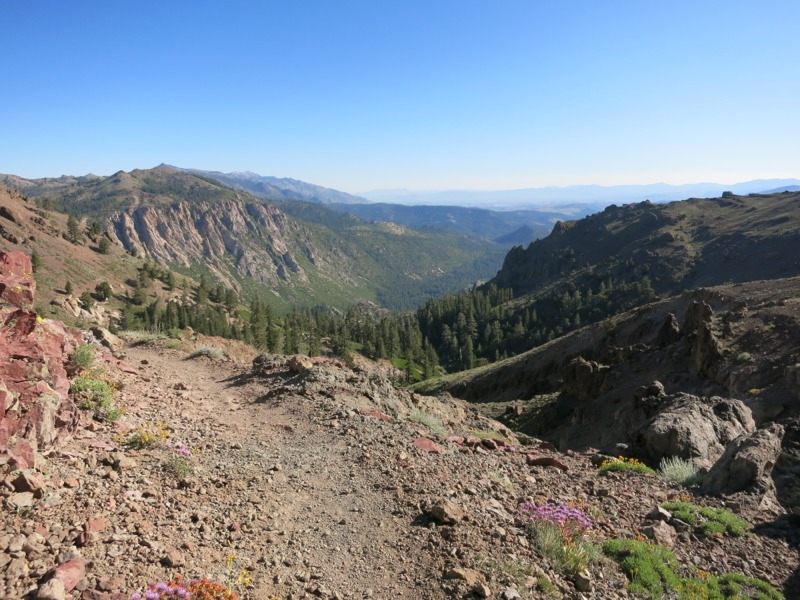 Today was one of the tougher mornings I've had. I didn't sleep too well and I seemed to be sore everywhere for some reason. Town is tomorrow, though, and I wasn't going to let some aches hold us back. The cereal we received yesterday from the trail angel was a wonderful change from our standard granola. Once we scrambled up the sandy slope back to the trail we headed along an exposed ridge for a while before dropping down to boulder-filled pine forest. After a few miles we started up again, hiking above treeline to skirt a rock formation called The Nipple with expansive views down onto the big reservoir below.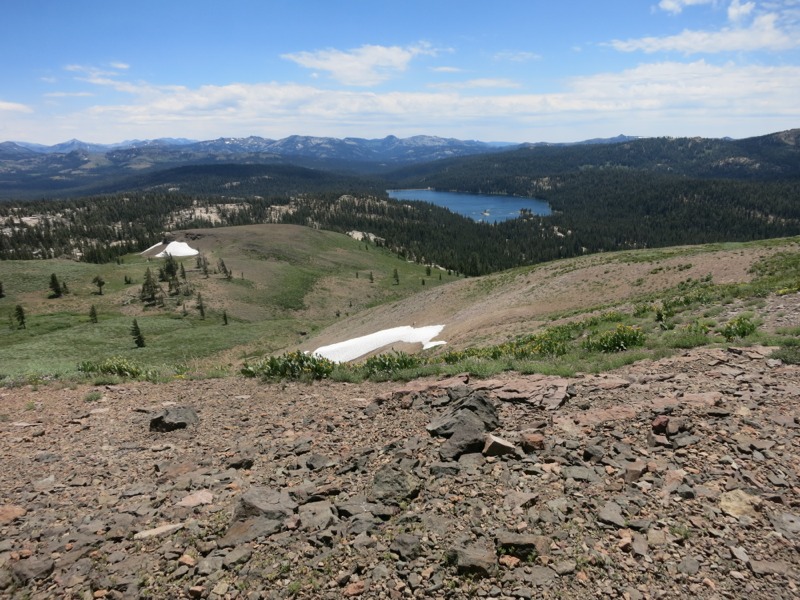 After coming down off the ridge we took a short detour to a nearby lake and deserted campground for lunch. Some food and a quick nap did a lot to make me feel better. We set off again somewhat refreshed and anxious to knock down the remaining miles between us and town. We climbed through forest for a short while before coming to a flower-filled canyon. Hummingbirds were everywhere. The skies were clouding over and we got a few sprinkles, but it let up pretty quickly.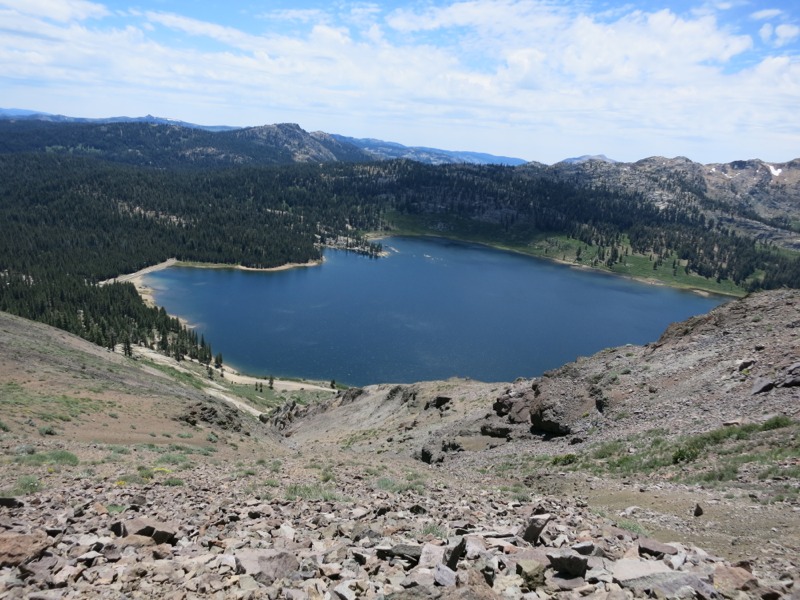 The climb out of the meadow was steep and winding, taking us back and forth as we rose. Near the end we climbed over the steep east side of the Elephant's Back, a peak near Carson Pass. In bad years this can be a tricky, snowy traverse on a steep slope after most hikers have already sent home their ice axes. As with most obstacles this year, it wasn't as much of an issue – the snow came right down to the trail but ended there. A little more climbing brought us to the crest and then it was all downhill to the highway pass. The trail abruptly turned into a four-lane hiker highway clear of debris and rocks. We strolled down the last few miles to the road and the facilities there.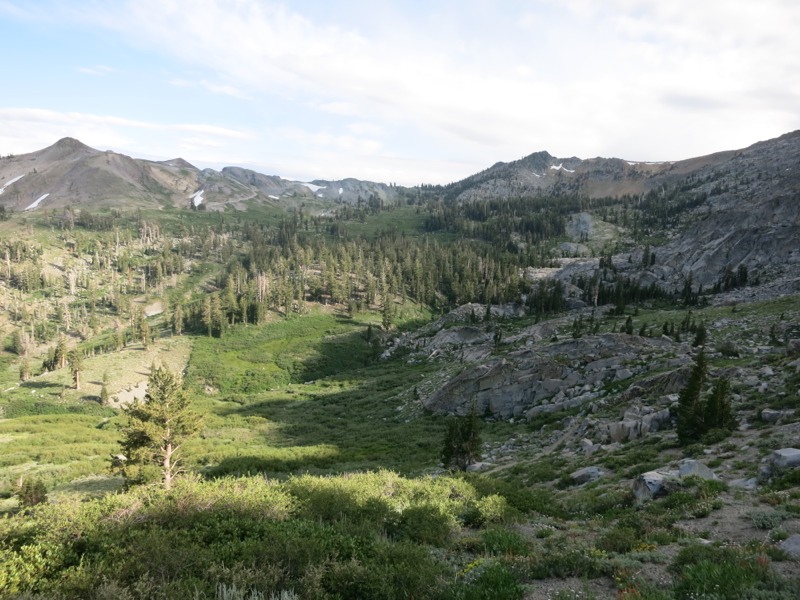 We had heard that we could get water at the visitor center but it was long since closed when we arrived. Pit toilets and trash were consolation luxuries. We crossed the road and hiked west a little way, looking for where the trail picked back up. Another parking lot marked the spot and as we hunted around for a water spigot a family camped nearby called us over. They quickly solved our water problem by filling us up from their own supply, saving us from having to hike another two miles to a little pond.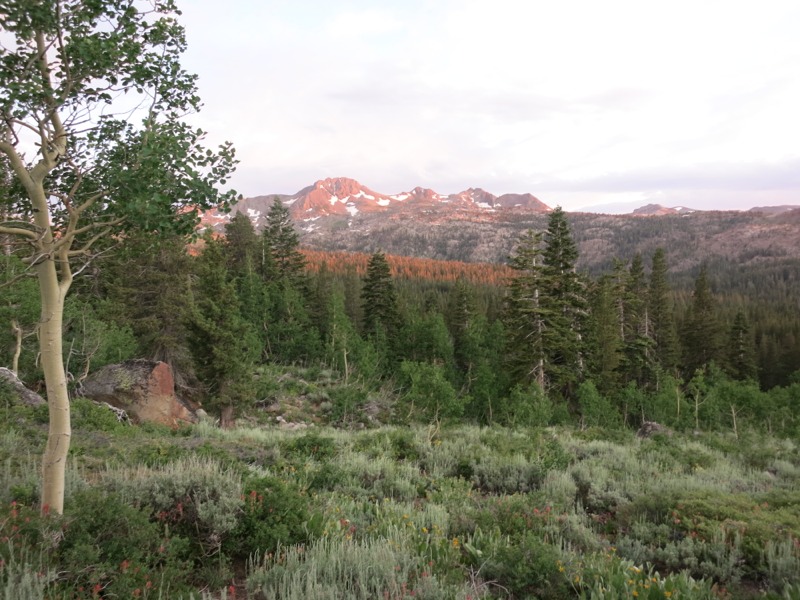 More than that, though, they fed us massive spicy hot dogs with kraut, soda, and gave us a big bag of nuts to carry up the trail with us. We sat in yard chairs next to their sweet tricked-out camping van and talked about backpacking and our trip while we ate. They were super nice and it was such a treat at the end of a hard day and a hard section. They made us feel very welcome. It reminded me of camping with the family at home, with all of us sitting around the fire with our snacks and something delicious cooking in the Dutch oven.
Finally we headed up the trail to find a spot for the night. It took a little longer than we had expected since we wanted to get away from the highway. By the time we were away from the road noise the terrain had gotten steep and choked with plants. After a while we pulled over to a grassy flat spot and threw up the tent against the looming clouds, hoping not to get rained on.
– Posted from the PCT

Location:Pct mile 1080