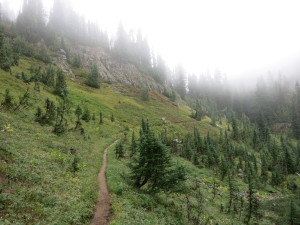 We stayed dry even though it rained for most of the night. I didn't sleep very well – every time it started up again I woke up to check that no water was getting in. When the alarm went off neither of us was inclined to move, so we lay in our bags and ate our snickers and granola and other breakfast snacks while raindrops tapped on the tent.  Eventually we made ourselves get up but the wet and the cold made it really tough.  If we didn't have to make the miles we would have gone back to sleep for a few hours.
We got out of camp later than normal and started right into a steep climb up a ridge. Everything was still draped in fog and coated with moisture.  The trail was in better condition than yesterday.  Although some spots were still squishy we didn't had to slog through any mud.  The forest smelled wonderful – a sweet, grassy vanilla scent with spicy pine and anise notes.  As we came over the top of a ridge I startled what I thought was an elk.  Later on we heard them bugling in their strange, squeaky voices.  Fall is marching on…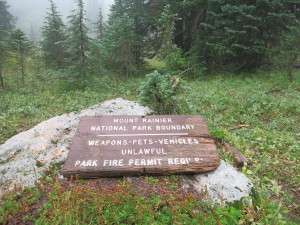 As the morning progressed some of the mist burned off and we even had a few rays of sun. We began to catch glimpses of the rocky cliffs around us. We crossed into Mt. Rainier national park, our next to last such park on our hike.  It's strange to think that we were here just over a year ago hiking around the mountain. I never would have guessed that we'd be back so soon – and all the way from Mexico!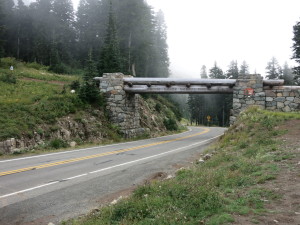 We stopped for lunch at Chinook Pass, which had trash cans and outhouses.  The chilly air and lack of sun had us shivering when we weren't hiking and we devoured our meal of pork daal faster than usual just so we could get moving again. The trail followed the highway for a short while before starting us on another climb.  We passed Sheep Lake, nestled in a bowl of craggy cliffs, and continued up.  Once we reached the top we dropped into the basin on the other side and started following the sides of ridges. With the fog mostly cleared we had spectacular views of the surrounding mountains – although we still couldn't see Rainier itself.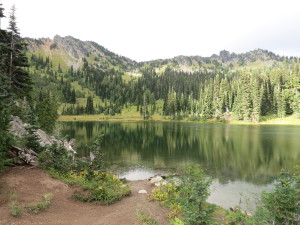 It got colder and colder.  At one point we stopped to make a quick phone call to reserve a room at Snoqualmie Pass this weekend.  The break couldn't have been more than 5 minutes but by the time we got going again our hands were numb.  We've been wishing for colder weather and here it is!  We hiked until nearly dark and found a nice site up on a ridge, far enough off the trail to be private.  It's very cold – 37 degrees, by my watch thermometer – and we're all bundled up in our bags.  Hope it's not too cold to sleep…