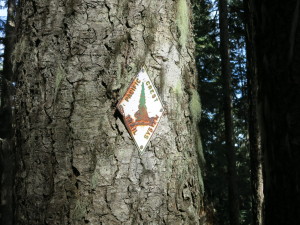 Last night was warmer than the night before, but the wind was so noisy as it gusted through the pines that it was hard to sleep.  Today was the day of ups and downs. It felt like we spent all day either picking our way down steep slopes or slogging back up them.  The sun was still shining in a clear sky for the first half of the day and it was intense even this late in September. This made itself felt most through the continuing clear-cut areas, but the shady forest sections we alternated with were cool and humid. Like natural air conditioning.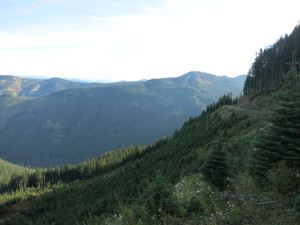 The trail still suffered through the logged patches.  On steep slopes it was deeply rutted and full of loose rocks from the runoff that flowed down the path during rainstorms. We stopped at a very low-flowing stream for lunch and were glad for it since the next water was 5 miles and a steep uphill away. Lunch was veggie daal, a meal we often overlook when deciding which ones to take from our resupply.  I'm not sure if it's because we haven't had it in a while or what, but it tasted especially delicious. Maybe it was all the veggies – cauliflower, zucchini, carrots and a lot of other stuff we don't normally get the chance to eat out here. The second half of our day started with yet another steep climb.  The sky had clouded over a little and would continue to move towards overcast for the rest of the day – the promised shift in weather.  We went down the other side of the slope in a knee-punishingly steep descent, crossed a dirt road, and immediately started back up the other side in a thigh-burningly steep ascent.  I guess that's why it's called the pacific crest trail and not the pacific flats trail.  We crossed under three different buzzing high-voltage transmission lines as they marched west towards Seattle.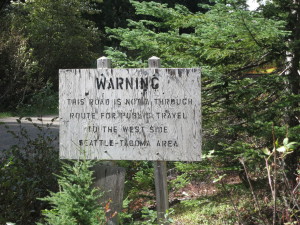 After one last steep climb we headed down the backside of a ridge to another hopefully-flowing trickle and our campsite for the night. The trickle was better than we'd had for lunch, flowing with a noticeable current across the trail.  Another tenth of a mile or so brought us to a wide, scrubby meadow where we set up for the night.  There was enough daylight left to pick what we thought was a site sloped enough to allow any rain to run off. Tonight is definitely a tarp night.  Tomorrow we'll have a short day into Snoqualmie Pass, our third-to-last stop before the border.  We're excited for burgers and a real bed out of the elements, which are sure to be a factor.