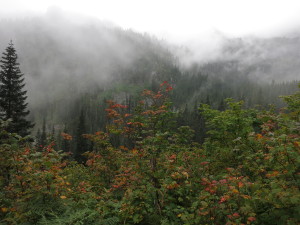 We knew we would face the challenge of rainy weather sooner or later, and today was one of those days.  The worst of the front passed through yesterday while we were snug in a hotel but the next few days are still supposed to be rainy.  At least we only have three full hiking days until our next stop in Skykomish.  It was still very hard to leave when lots of other hikers were taking an extra day off.  Thankfully it wasn't raining too hard.  It's gotten cold as well, but we were warm enough under our rain gear.  We took an alternate route out of town.  The Goldmyer alternate takes us down into the Snoqualmie river valley and right past a nice hot spring.  Access to the spring is tightly regulated – only 20 people are allowed in each day to limit the impact – and our timing won't allow us to take time off and soak, but we're at least hoping to get in and see the place tomorrow.  This alternate saves us a few PCT miles, but more importantly, it stays lower than the PCT. We've heard that there may be snow tonight at higher elevations and we're not quite ready to deal with it on top of the rain.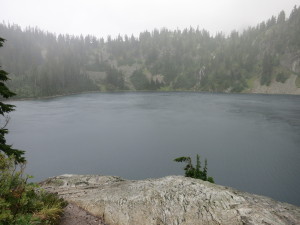 The hike today started with a road walk away from the noisy I-90 corridor and up one of the canyons near the pass.  We entered the Alpine Lakes wilderness and immediately started climbing towards Snow Lake. It was gradual at first, through thick rainforest, but soon got steep and started switchbacking up rocky trail towards a ridge coming off Snoqualmie Mountain. As soon as we got up we started heading down, along some of the most rugged and challenging trail we've hiked yet.  Because of all the rain many trickles had appeared and begun dumping their water on the trail. It was like hiking through a stream for the first few miles as we dropped steeply into the river canyon.  We crossed ridiculous rock beds, slippery with moss and dead leaves. They were so jumbled that we couldn't tell if this was just how the trail was maintained or if there had been multiple rockslides. The scenery, at least, was spectacular – sheer, craggy granite cliffs that plunged into the valley. They were lined here and there with patches of plants than managed to find a spot flat enough to gain a foothold. Cascades of foaming whitewater trickled down the rock faces – waterfalls everywhere we looked.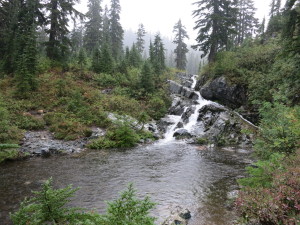 Finally, after hours of crawling along, we made it nearly 2500 feet down to the trail that ran level (more or less) along the river.  This was much easier hiking and was a relief on our ankles, knees and feet.  It was also gorgeous. Everything on the ground was covered in bright green moss that contrasted sharply with the dark, shiny black of the wet tree trunks around us.  Emerald ferns, glossy with moisture, grew along the border of the trail. It formed a tunnel of green stretching on through the dense forest. An owl hooted somewhere down the slope towards the river. Out early, maybe, but it was very dark under such heavy tree cover. We hiked another few miles down the canyon to reach Thunder Creek and decided to stop at the site here even though we hadn't even done 10 miles yet.  We went so much slower than expected that it was rapidly approaching dark and we were anxious to find a spot with enough of a slope to avoid pooling water from the rain.  This site fit the bill. It took us a while to get the tent up on the softened ground.  By the time we got everything set up and dove in out of the rain it was getting dark and we were glad we'd stopped early. We were very happy with how warm and dry we stayed under our ponchos and umbrellas today.  If we can just stay dry during the nights (and not get stuck in any downpours) I think we can handle the rain comfortably enough.