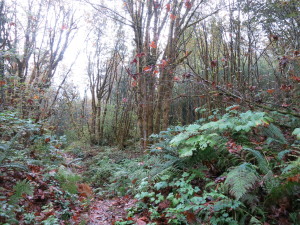 We stayed dry again last night. The rain was light and intermittent and almost nonexistent when we woke up.  It was a much warmer night at the low-altitude creek than it would have been on the PCT.  Still, we were loath to leave our beds. As on most rain mornings it took us longer to get going than normal.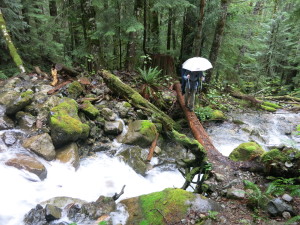 We started off eventually through the rainforest and were confronted right away with a difficult ford of Thunder Creek.  The icing on the cake was a slippery log bridge suspended 5 feet over the raging water. Smoother sailing after that, with a few other stream crossings and a lot of puddles to avoid – and a lot of spiderwebs hanging over the trail.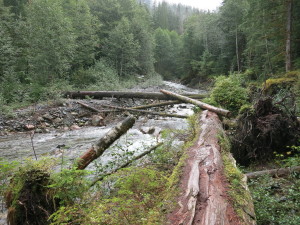 We crossed Bootburn Creek a few miles later (much easier thanks to some massive logs) and passed the junction for the hot springs.  We decided not to take the side trail down there in the interest of time and not wanting to pay admission just to have a look around.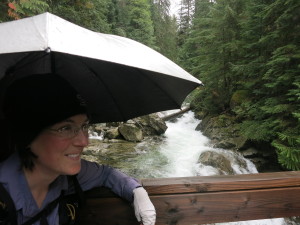 We turned north and paralleled the middle fork of the Snoqualmie River, which dominated the canyon we'd been hiking through since yesterday.  Going up river meant going uphill, and we climbed gradually at first.  After crossing the river itself (on a bridge, thankfully) it got steeper and we switchbacked up a dropoff.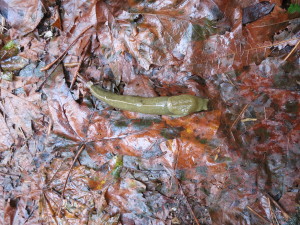 A few more miles of gentle climbing brought us to an abandoned road and a horse camp where we had our morning snack. How someone is supposed to get a horse over the trail we hiked yesterday is beyond me. That tided us over to lunch a few miles (and more climbing) later.  As we sat down it started to sprinkle for the first time all day, but it was inconsistent. As we ate our beef stew – very satisfying in the chilly weather – the clouds boiled above us.  A patch of blue sky would open and shut a few minutes later.  We even had a short period of sun.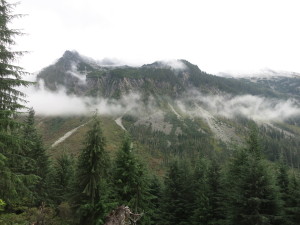 With the general clearing trend we could finally see the craggy, ultra-steep granite ridges that framed the canyon on either side of us. It reminded us of the Sierras 1600 miles ago!  After eating we got going quickly to avoid getting any colder than we already were.  More climbing followed, but we were starting to get out of the dense forest and into more alpine territory.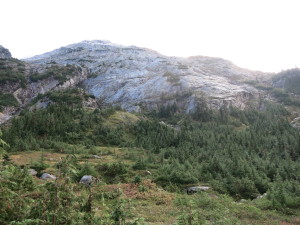 Meadows began to open up around us and the trail got more and more rocky.  After passing a trail junction it started to climb in earnest to the Dutch Miller Gap, a little pass that allowed access to the canyon between the rugged ridges that towered on either side.  As had been the case yesterday, the trail doubled as a waterway at times and it made our progress even slower than the climb and the rocks did on their own. Finally we reached the top.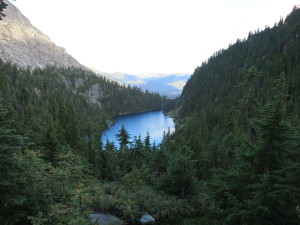 We took a quick break to snack and take in the views behind us, then started right down the other side.  The trail was extremely challenging – washed out, boulder-filled, and muddy – and we crawled along at a snail's pace.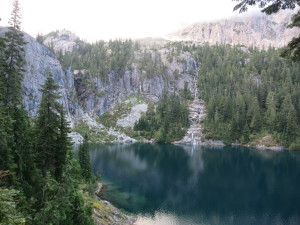 Even when we got down off the high point and started winding around ultra-blue Lake Ivanhoe it was in bad condition. The final obstacle was a bridge over a stream that was cracked in half, its belly right in the middle of the water.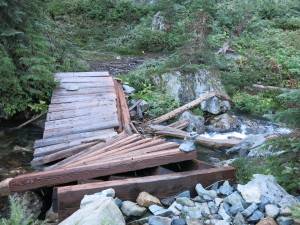 A half-mile or so after this it started to get better as it re-entered the forest and began a series of long, gentle switchbacks down towards Waptus Lake and the sea of trees below.  As we came into view of some of the higher peaks around us we could see that they were dusted with snow. We moved faster down the switchbacks than we had at any other time that day.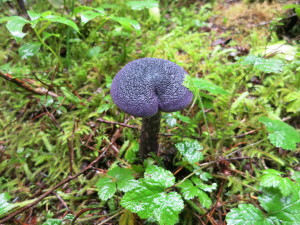 Soon they leveled out and swung us around towards the Waptus River.  We saw a sign – PCT only a half mile away – but still had to fight our way through a terrible maze of blown-down pines and one last tricky stream crossing.  Despite the fact that we'd only come 17 miles so far it was getting dark and we were more than ready to stop at the campsites right where we rejoined the trail.  It's already 10 degrees cooler than last night and will probably get colder.  We're very happy to be back on good trail…it will be nice to hike without stumbling over every step.  Taking the shorter alternate didn't really save us any time over the longer PCT section but we're still glad we had the chance to see such amazing scenery!