The beginning of the end – it's all downhill from here…
Zero in Baring
Weather continues to deteriorate.  Record heavy rain all day down here is falling as heavy, wet snow up on the crest.  Lots of hikers are either abandoning their trips or making alternate plans.  Regretfully, we have decided to skip the next rugged and challenging section.  Stehekin is potentially headed for a clear window of weather in a couple days that will likely be our best chance of reaching the border and we would hate to spend any short reprieve getting there instead of getting to Canada.  Even so, we may already be too late – we won't know until we see the trail and snowfall for ourselves.  From here to the border the trail mostly runs above 5000'.  We are starting to mentally prepare ourselves for a shorter-than-expected end to our 5 1/2 months of heaven.  Today we will stay here and hang out with the crowd of hikers that have built up.  It's a blessing to be able to spend one last break with so many wonderful people we've met over our journey.  From here I'm guessing we'll be much more fragmented as people take their own paths to the border.
Baring to Chelan
We said goodbye to our herd of hiker friends today, probably for the last time, and headed east on the first step of our trip to Stehekin. A friendly local trail angel gave us a ride all the way over the crest through apple and pear country to Chelan, which lies at the south end of the lake of the same name.  Stehekin, at the north end of the lake, can only be reached by foot (via the PCT), ferry, or seaplane.  We are in a bit of a funk because of all the uncertainty over the last few days and the snow we will likely encounter when we head north.  Before reaching Stevens Pass we were almost ready for our hike to end – having to make so many miles every day is starting to wear thin – but now that it might not end on our terms we're a little distressed. Another thing to worry about is the federal government shutdown that seems likely to begin the day after tomorrow.  Stehekin is located within the boundary of North Cascades nat'l park and a lot of the land between there and Canada is federal so this will cause problems.  It continues to rain and our expected weather window now looks as though it might not materialize.
Chelan to Stehekin – pct mile 2580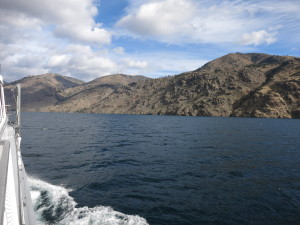 We hopped on the morning ferry to Stehekin today.  After the last few hectic days it was a nice, relaxing ride up the narrow lake.  Once there and checked into our room we took the shuttle bus up from the landing to the Stehekin Pastry Company, one of the most-anticipated stops along the entire PCT.  This is something hikers look forward to all the way from Mexico.  It absolutely lived up to the hype.  We stuffed ourselves on pizza pockets, pumpkin muffins and red velvet cupcakes, raspberry-hazelnut pastries and a slice of sour cream apple pie.  We won't be able to eat like this much longer…There are not many hikers in town right at the moment.  A lot of people have either thrown in the towel or are stuck on the section between Stevens Pass and here. We've also heard some worrying reports about search and rescue teams and hypothermic hikers.  Our chances of reaching the border aren't looking good but we'll have to see the snow for ourselves before giving up on our trip.