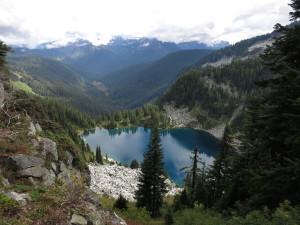 A bit of an uneventful day today, except that the weather cleared enough to give us some sun and the chance to see the incredible scenery the clouds had been hiding.  Lots of up and down as is common for this section.  We passed a few ultra-blue surprise lakes, which seemed to appear from nowhere as we summited ridges one after the other.  It clouded over again as we stopped for another chilly lunch.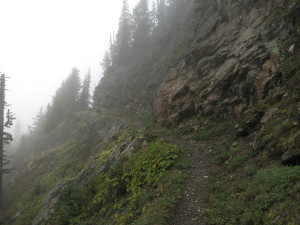 The trail became very muddy as we went on and it slowed us down more than I would have expected.  With all the rain we've gotten and all that's forecast to come we're worried about the trail tread coming up.  I took a spectacular faceplanting fall after lunch, hard enough to lose my wind and worry about chipping a tooth.  Luckily all my bones were all still in their correct places and there was nothing to do but pick up and move on.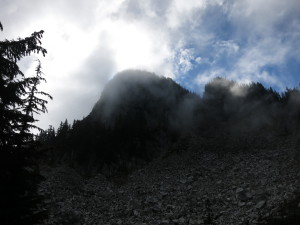 As the rain restarted we began to see power lines and ski lifts, a sign of impending civilization.  We passed a fast day hiker just before we reached the road and he very helpfully offered us a ride down off the crest to Baring, where we'll be staying at the Dinsmore's Hiker Haven – another must-visit stop for lots of hikers.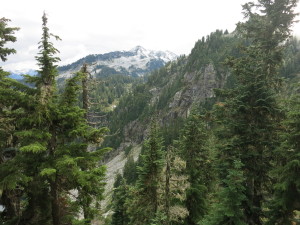 Andrea and Jerry host the herd as they pass through every year, holding our packages, doing our laundry, and giving us all a place to sleep in their warm and well-outfitted hiker bunkhouse.  This year especially they are serving as an important safety net for those – like us – who are pushing the end of the season.  We filled out contact forms that could be passed along to search and rescue teams if a mishap were to occur between here and Stehekin.  This was especially important now given that the weather up on the trail is headed for a heavy stretch of snow.  Last year a hiker left under these conditions, became snowed in, and was trapped for two weeks before finding the trail and hiking out.  While we were hanging out with the crowd we started to hear about folks heading north who had turned around and come back rather than risking hypothermia.  Some are already deciding to end their hike, just 180 miles from Canada.  The writing is on the wall – hiking season is ending a week or two earlier than expected and we will have to make some decisions about what to do before hitting the trail again.