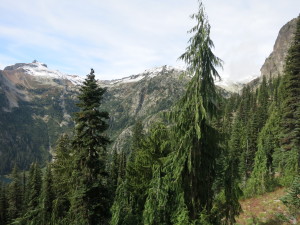 We had no rain at all last night and actual sunshine this morning.  We were still slow in getting up and going thanks to the cold, as we have been for the last few days.  When we hit the trail we soon crossed the Waptus River on a good bridge.  Right after that we bumped into quite a few other hikers camped there.  This was a surprise – we always sort of assume that we're the last ones out of camp on any given day, but they were still eating breakfast.  It sounds like everyone is having trouble doing big miles now.  Part of it must be the terrain and decreased daylight, but I think people are starting to slow down a little now that we're about a week's hike from the border.  All of a sudden it's almost here and hikers seem to be relaxing a little to enjoy their last few days.  After dragging ourselves away from the good conversation we continued on down the trail. The first few miles were gently rolling as we worked our way out of the canyon where we'd regained the trail last night.  We could catch glimpses of Waptus Lake below us through the trees to our right.  We rounded the nose of the canyon and started right up another, following Spinola Creek up and up to a brief flat respite near Deep Lake, and then up and up further to Cathedral Pass.  The rocky meadows and scrubby blueberry bushes, turned red and purple by the cold, marked the end of the morning's climb.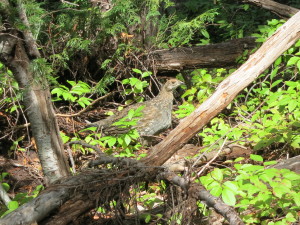 We saw a grouse family, babies all grown and in their adult plumage, as they passed through a light section of the undergrowth.  We took in the view of the snow-dusted peaks still towering above us and then started down the other side of the ridge. Here the going was a little slow as we picked our way down steep, rocky trail.  It was still worlds easier than the alternate we had taken. In fact, we kept mentioning all day how it was nice to hike on good, clear trail again.  We crossed a few streams before reaching the one marked as a tricky crossing in our maps.  Keith got across dry and I soaked my feet – lucky compared to another hiker we crossed with, Legend, who fell in but somehow avoided hitting his head on the rocks.  I'd hate to see what this creek is like earlier in the season.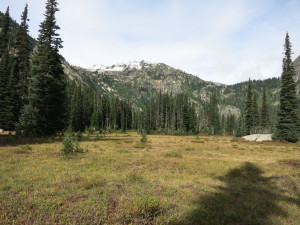 A few yards up the trail from the crossing we stopped and had lunch. I had to put on another layer of pants in addition to my hat, gloves and jacket.  Hiking keeps us warm enough when we're moving but it was cold enough today that we cooled off very quickly when we stopped.  After polishing off a bag of cheesy bacon potatoes we packed up quickly and started north again under now-overcast skies. I hiked for about a half hour – most of it uphill – before I was warm enough to take off my jacket.  Thankfully my wet feet didn't take that long to thaw out. We hiked up to Deception Pass, then passed the creek of the same name. One more climb – almost welcome for the heat it generated now that dusk was approaching – brought us up near Deception Lakes.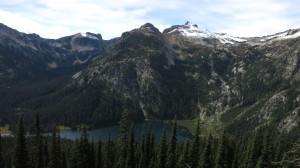 We stopped a little short of them, just past a nameless creek, when I found a faint side trail leading up to a small knoll. Since we were now hunting for campsites I followed the trail without much hope and was surprised to find a nice, open campsite that looked back down over the trail. This was a great find.  We assumed that a lot of the hikers from this morning, who had passed us at lunch, were camped up at the lakes and we do like our privacy.  In the last few minutes of gray daylight we set up camp, filtered water, and sank ourselves deep in our down bags.  It's already a little colder now than last night.  No surprise, since we're up higher and more exposed.  Tomorrow we have a nearly full day's hike to reach Stevens Pass, where we'll hitch into Baring and stay the night at the local trail angels' place.  We were going to take a day off but didn't expect this section to take 4 full days. I'm sure the weather forecast will play a role in deciding what we're going to do. Nearly 200 miles to Canada!