Day 135 – MacKenzie Pass to Old Santiam Road – 14 miles – pct mile 2003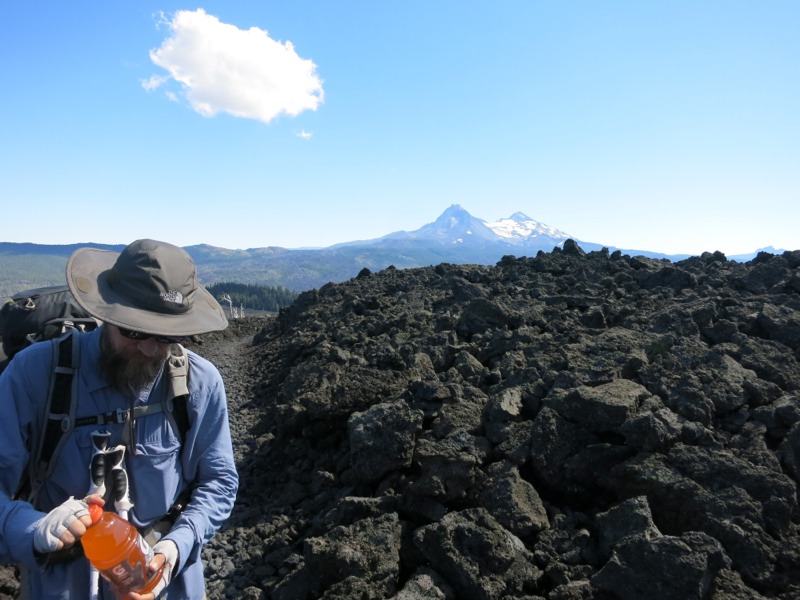 Back to the trail today to start the final leg in Oregon! We were worried about getting a hitch back since Bend is 30 miles from the trail. As it turned out, we didn't need to worry. A lady saw us walking up the main drag and gave us a ride to Sisters, where the highway splits off for McKenzie Pass. Not more than 5 minutes after she dropped us off a nice guy named Gary picked us up and we were on our way. The trail crossed the highway in the middle of a huge, desolate lava field filled with rough black chunks of volcanic rock. We started off climbing through this field towards Little Belknap Peak. It was tough going – the temperatures were high despite a slight breeze and we had to be extremely careful with foot placement so as not to twist an ankle or knee. Thankfully the lava field didn't extend for more than a few miles. Before long we were back on dusty volcanic soil, rounding the slopes of Mt. Washington – the first of the "presidential" peaks we'll encounter. We crossed through dense forest and open, burned out areas as we gently dropped down to the spur trail for Big Lake Youth Camp and our next resupply shipment. The camp is very hiker friendly and allows us to use their shower and laundry facilities in addition to holding our shipments. Luckily, since we were just in town we didn't need to spend time on these chores and instead worked to sort through our food for the next 6 days. Another long-ish leg. Even this didn't take too long and in about an hour we were packed and ready to hit the trail again. We walked up the entrance road to avoid having to backtrack to the trail and soon picked up our path again. With dusk turning to dark and our packs heavy with water, we just went far enough to get out of earshot of campers on the road and set up for the night.
Day 136 – Old Santiam road to Shale Lake – 27 miles – pct mile 2030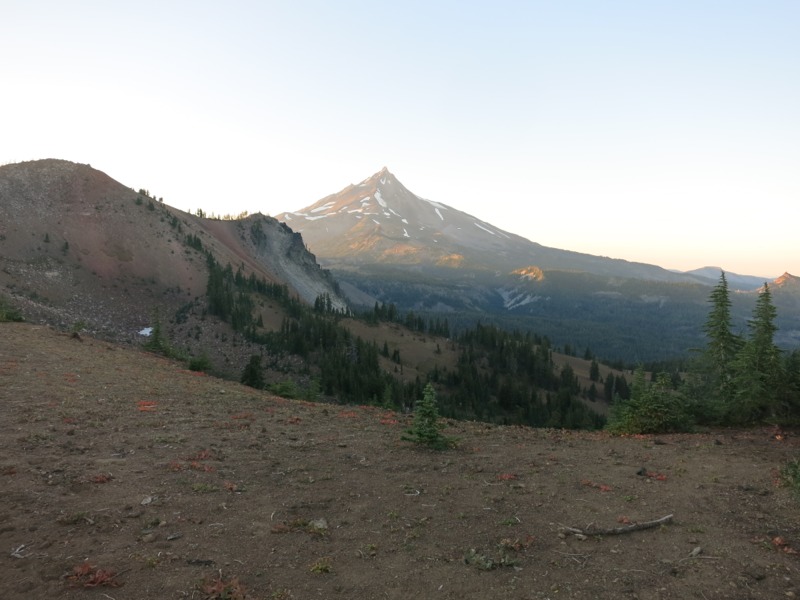 This morning was warmer than we've had recently, so it was a little easier to get up and going. We started off with a few easy miles through a burned area towards Santiam Pass, another highway crossing. Visibility was good through the burned trees – all bleached white and completely lacking in vegetation – and we could see the craggy summit of Three-Fingered Jack, the next peak we would skirt. Sounds like it was named for a pirate captain rather than a president. After the road we stopped to chat with Lon, a local section hiker, about bike touring. He's ridden down the west coast and across the states – something we'd like to try some day, although maybe on a smaller scale. We climbed over a few miles as we came around the peak, getting a good look at it up close. Way up near the top we could see tiny dots as people headed towards the summit. We followed a ridge around to the back side and were rewarded with the sight of broad bands of red and black streaking through the rock – the back face looked completely different from the front. Soon we reached Koko Lake for lunch. It was more of a pond than a lake but it was deep and the water tasted fine. We took advantage of the beating sun and lack of shade to dry out our sleeping bags, which had been damp with dew this morning. After eating we started north again and into an afternoon of climbing. As we switchbacked up ridges, cooled by a nice breeze, we caught glimpses of Mt. Jefferson's sharp, snow-streaked summit. This was by far the most impressive of the peaks we've encountered over the last two days. The climb was uneven and sometimes rocky and we didn't quite make the speed we were hoping. As we transitioned back into forest and out of the burned area at last the shadows grew longer and the light turned orange as the sun set. We continued hiking after it was full dark, thanks to my new headlamp, and reached Shale Lake after another hour or so. We had expected it to be crowded and we could hear other people, but we had no trouble finding a spot up on a rise under some trees. Hopefully this will keep the dew to a minimum tomorrow morning.
Day 137 – Shale Lake to past Ollalie Lake – 24 miles – pct mile 2054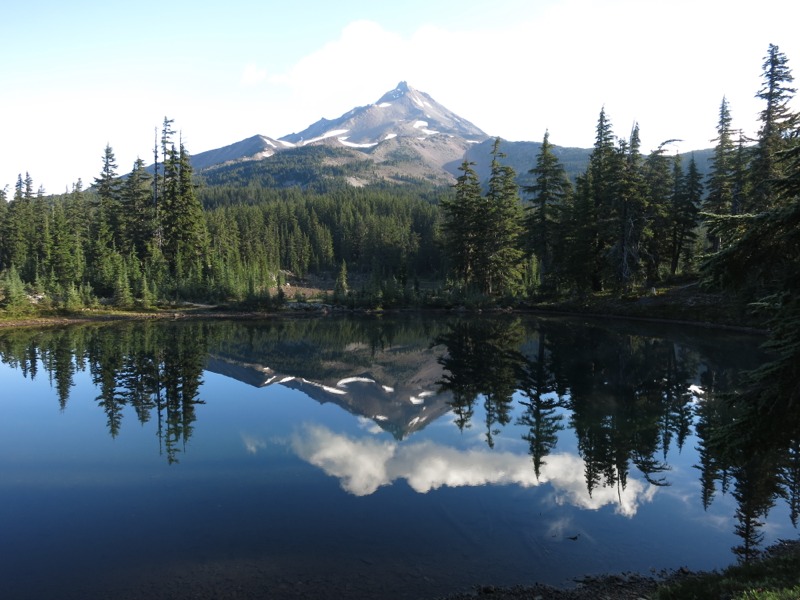 We woke up this morning to see Mt. Jefferson reflected in the still-as-glass Shale Lake. Despite the closeness of the lake the dew was minimal so we didn't have to dry our bags out at lunch. We started off on a decline through shady pine forest as we swung around Jefferson's western flank. After a few miles we reached Milk Creek, our first glacial creek. True to its name it was cloudy with rock flour from the glaciers high up on the mountain. A steep, rocky climb through overgrown trail followed before we reached Russell Creek. This was also glacial, and much cloudier and faster-running than Milk Creek. It was a tricky crossing and Keith didn't escape without soaking his leg and nearly losing his hiking poles. Another gentle climb followed before we leveled out. We started to pass lots of people out for the weekend, including a pack train that was hauling out trail crew supplies. We stopped short for lunch at a pleasant, non-milky stream. We hadn't come very far yet since we'd been fighting the stream crossing and overgrown brush, but we were both hungry for a meal. The going was slow after lunch, too, when we faced the steepest climb we'd had in quite a while. First we strolled through Jefferson Park, a broad alpine meadow northwest of the peak that reminded us a lot of Spray and Seattle Parks near Mt. Rainier. The views were beautiful but we knew we'd be struggling up one of the surrounding ridges before long. Soon we were – working slowly up slopes that were alternately forested and open. The trail was nothing but fist-sized rocks that rolled under our feet like ball bearings as we tried to push ourselves uphill. When we reached the top we were rewarded with a bird's eye view of all the valleys and ridges around us. Jefferson towered nearby and we could get a good look at its glaciers, but the top half was socked in with thick gray clouds that had shown up during lunch and would build for the rest of the day. After soaking in the views while we took a rest we headed up the spine of a ridge lined with a row of scraggly, wind-twisted dwarf trees. Starting down the other side was slow as we tried not to beat up our ankles any worse than we already had on the rocks. Being above tree level meant that we spent some time crossing a rock field and even skirted a patch of snow. Soon enough we reached the trees and continued descending through sparse alpine forest to thicker growth down off the ridge. Miles of undulating trail took us past numerous lakes, over more rocks and finally to the turnoff for the Ollalie Lake Resort. We stopped by to fill up our water for the night and scored a few sodas from the store when the friendly cashier re-opened it just for us. We plodded back to the trail in the dark, loaded down with the dead weight of our water bladders, and went far enough up it to find a nice spot off-path a little to set up camp. Today was a tough day. We worked hard from the moment we set out, and our feet and knees are very sore from all the rocks, but we still fell a few miles short of our goal. Tomorrow's terrain should be easier.
Day 138 – Past Ollalie Lake to Joe Graham Horse Camp – 29 miles – pct mile 2083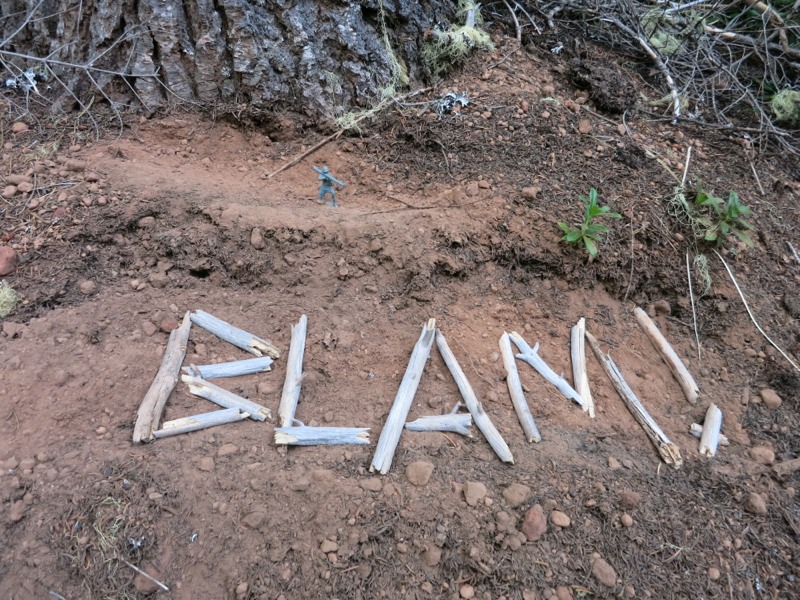 Today was a pretty unremarkable day aside from the fast pace we set. Although we hiked for nearly the same amount of time as yesterday we got in 4 miles more. This was thanks to the gentle terrain – no steep climbs and good, clear dirt trail. The trade off was that the day was mostly viewless through dense forest draped in hanging moss. We kept hoping to catch a glimpse of Mt. Hood, fewer than 25 miles away by the end of the day, but that will have to wait until tomorrow. We hiked 17 miles to a spring for lunch. Our guidebook promised that it always had good water but we were disappointed to find only still pools. It tasted fine, though, and when we filter every source we drink from it's hard to get too worried about it. The remaining 12 miles went as quickly as the morning had – not always the case – and we even had the cell service to reserve a hotel room in Cascade Locks this weekend. We hiked the last mile or so in darkness, as has been the case lately. What was new was the enormous toads that seemed to take over the trail after it got dark. We saw at least 5 and heard more in the brush. Some of them were nearly as wide as my hand with the fingers spread. Good thing we're not cowboy camping tonight. We camped at a horse camp near the trail, grateful for luxuries like a spigot, a picnic table and trash cans.
Day 139 – Horse Camp to Timberline Lodge – 24 miles – pct mile 2107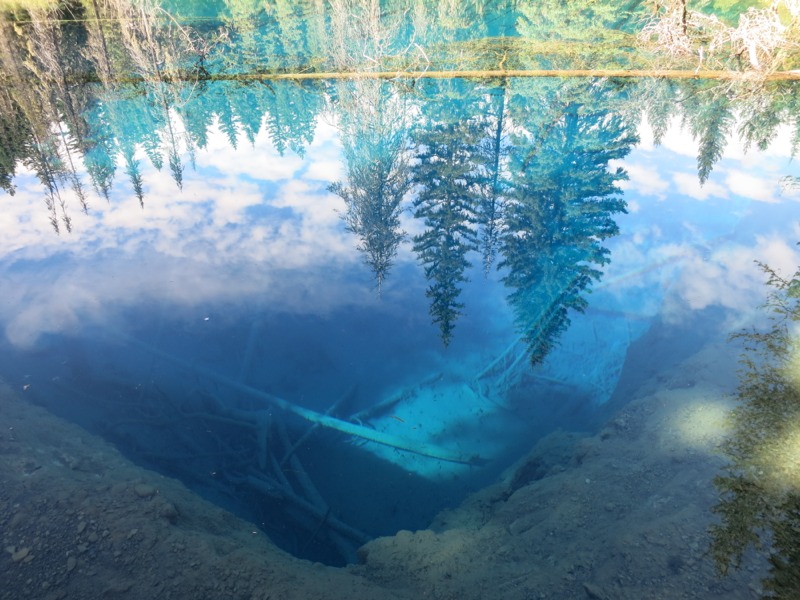 The meadow near our campsite was completely fogged over this morning. Luckily this didn't translate into damp gear. We started north along the shore of Timothy Lake for a few miles before coming to our first distraction of the day. Little Crater Lake is an artesian spring that gradually eroded out a small, steep-sided pool 45 feet deep. The water was so clear that it was a deep ultra blue. It looked like the lake was filled with windex. It also looked much shallower than we knew it to be. After contemplating the pool for a while and watching a big fish make its way across the bottom, we hiked the short leg back to the trail and turned north. What a cool little side trip! We continued to hike through mostly viewless forest until a few miles after lunch, when the trail turned east and we got our first views of Mt. Hood to the north. They would also be our last views, although we didn't know it at the time. We'd apparently stepped into mushroom heaven. All of a sudden shrooms of all different colors and sizes cropped up along the trail. We crossed a highway and hiked 5 miles to another, stopping twice to chat with hikers we hadn't seen since Crater Lake. After the second highway we turned north again and started climbing up the slopes of Mt. Hood itself – gently at first, then steeply. The sunny day had turned thickly overcast, hiding views of the mountain and making nightfall earlier than usual. The trail turned into sand as the forest thinned out around us. It made for really tough climbing. We could see the lights of Timberline Lodge, our goal for the night, but were separated from them by a yawning chasm of darkness that our headlamps couldn't pierce. Somewhere down there a river was churning. We took a sharp turn and started heading up the canyon. It was a little spooky hiking on such soft slopes with nothing but blackness on one side. Eventually we reached the glacial river that had been making all the noise – much smaller where we crossed it, but still tricky in the dark. We reached the side trail to the lodge soon after, where we'd reserved a room for the night. By the time we showered and ate it was late and we were exhausted. We went to sleep looking forward to tomorrow's breakfast buffet.
Day 140 – Timberline Lodge to Lolo Pass – 18 miles – pct mile 2125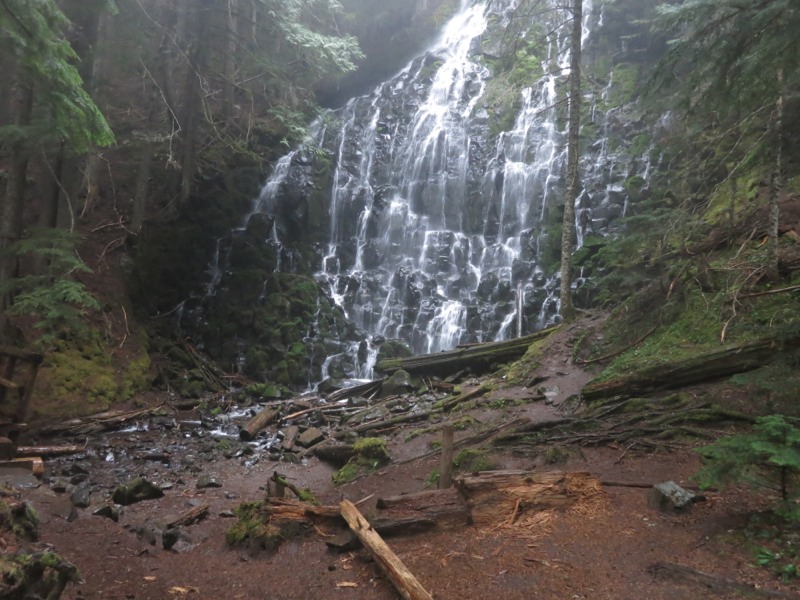 It was a struggle to leave a real bed, but the lure of the best breakfast on the trail helped. We stuffed ourselves with eggs, meat, potatoes, Belgian waffles and excellent fresh fruit. After lingering for a while to graze, we headed back to our room to pack up and get going. The low-hanging clouds from last night had stayed and the mountain slopes seemed to disappear into a sea of puffy white. We hung around long enough to take a few pictures of the outside of the lodge – also seen in the movie The Shining – before heading out. Almost right away we dropped into the clouds we'd seen earlier. Visibility was tough and we couldn't see much more than the trail in front of us, which had turned into a true rainforest. Ferns and mushrooms sprouted everywhere and huge cedars draped with moss hung over us. We wound along the side of the mountain, hearing but not seeing the glacial rivers that carved apart the ridges we were hiking on. We climbed and dropped and it seemed like Oregon's gentle terrain had come to an end. Eventually we reached the rocky glacial valley carved by the Sandy River. It reminded us a lot of the rivers on the Wonderland trail, with one important difference – no bridge! We had to go a half mile or so upstream to find a place where we felt comfortable crossing the swift current and cloudy water. We finally inched across on a couple of skinny logs and made it over safely. Then came the hike back down to the trail crossing and the inevitable climb out of the valley. We took a short alternate route past the beautiful Ramona Falls. As we sat down to have a snack while we took in the sights it started to rain instead of just threatening like it had been all day. We decided to move on instead of taking a break and getting chilled. After meeting back up with the PCT we had another tricky crossing over a fast-flowing creek. We then started up again, climbing all the way up to Bald Mountain and along its ridge before descending to Lolo Pass. By the time we started down it was dark and the going was tough over slippery rocks and roots. At least the rain had stopped for a little while. We and a few other hikers made camp at the bottom of the pass near a paved road. We're in for more storms tonight. We've got a very long way and a big drop into Cascade Locks tomorrow – it would be tough to do it all in the rain…
Day 141 – Lolo Pass to Cascade Locks – pct mile 2155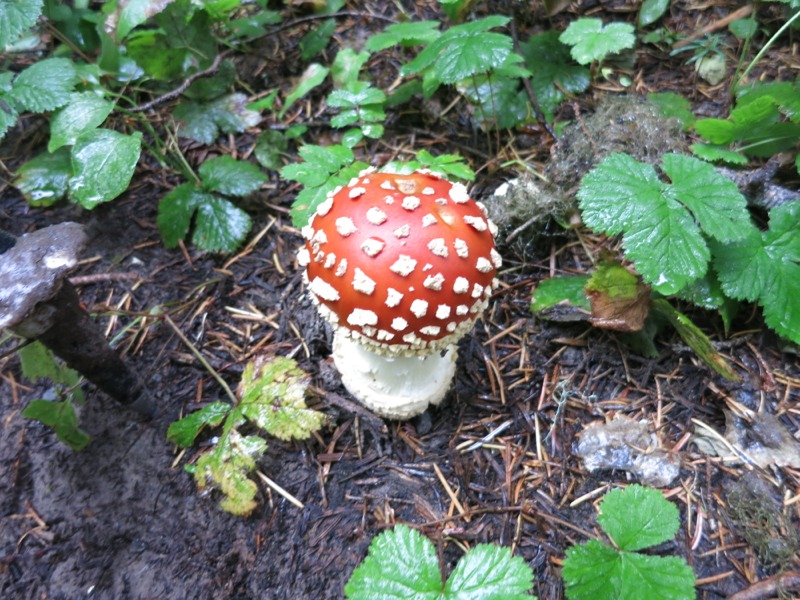 It rained hard all last night. We slept badly and woke up to realize that we were camped in about an inch of water. Apparently what looked like a good flat spot in the dark was actually the low point of this campsite. Everything we were carrying was soaked – packs, food bags, electronics, and worst of all, clothes and sleeping bags. And it was still raining. Oregon was giving us quite the sendoff! After trying to salvage something dry to wear – which pretty much meant our sleeping clothes – we put on our ponchos and conferred with the other hikers we'd camped with. It was a tough situation. We were a little more than a day out of town, especially since it would take us a while to pack up, and spending another night out with wet clothes and sleeping bags was not an option. We were all worried about taking the trail down into the Columbia gorge after this much rain. In a stroke of good fortune, the parents of one of the hikers we'd camped with lived nearby. Luna had called them that morning and her dad was going to drive out and get her and her husband Werewolf so they could get into Portland that weekend. Tired, cold and wet, with gear that was heavy from the soaking it had gotten, it didn't take much to convince us to get a ride with them. We threw our stuff into our bags and packed up our sopping wet tarp and footprint. Then the 8 of us headed up Lolo Pass Road into the rain to meet our rescuers. After 5 miles of roadwalking we reached the spot where he'd parked and piled into his camper for the ride down to their place. Luna's parents were incredibly hospitable and helpful. They were also recent transplants from St. Paul, having moved out here less than a year earlier. Pizza and a warm place out of the rain helped put us all in better spirits before they hauled us down to Cascade Locks. We picked up our resupply from the post office – including, ironically, our umbrellas – and headed to our hotel room to empty our packs. Soon every flat surface was covered in drying gear and we'd cranked the heat up to help things along. We already plan to take an extra day here to make sure our bags are completely dry. Tomorrow we hope to find a way to get back out to the trail in order to hike some of the section we missed, but it's a very roundabout drive and will be difficult to get a ride.
– Posted from the PCT

Location:Pct mile 2155