Finally, sweet closure!
Keith and I traveled back to Seattle in August to finish our final 180-mile stretch of the PCT.   It was thrilling and deeply satisfying to be back on the trail again, working up a sweat and sleeping under the stars.  These last sections – Glacier Peak and the North Cascades – were some of the most scenic and most difficult that we'd hiked on our entire journey from border to border.  Or maybe they just felt that way after a year of easy living and full-time sedentary jobs!  Numbers can't lie, though – according to our map data, the trail between Stevens Pass and Stehekin had more elevation change than any stretch since the High Sierra, when we were traveling over high passes every day.  We held up well despite the fact that we weren't quite in prime thru-hiker shape.  What a luxury to be able to set a goal of 12 miles a day!  Hiking from 9 to 5 and watching the sunset from our tent was a nice change from the standard thru schedule of being on the move from dawn to dusk.  Every day we met a few hikers from the current season, so close to the finish that they could nearly taste it, and chatting with them brought back great memories of the previous summer.  The weather was mostly gorgeous aside from some rain over the first and last few days – hardly something to complain about given that we were hiking in northern Washington.  This allowed us to soak in all the amazing, hundred-mile views.  I could spend the rest of my life in these mountains and never get tired of the scenery.
And oh, what views!
During our first few days Glacier Peak grew larger and larger on the horizon: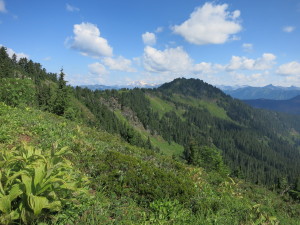 Tough climbs were rewarded with fields of lupine and ridgetop views: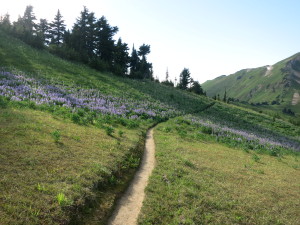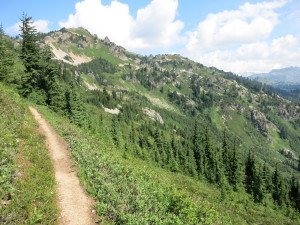 A fast-moving storm on our third day took us by surprise: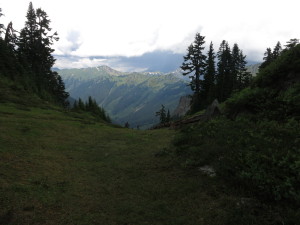 But we stayed dry under our ponchos and umbrellas and ended up at one of the most beautiful campsites we've ever had, overlooking the White River valley:
The next day started with the traverse of a steep ridge.  On our left the panorama of the Cascades stretched away to the south.  We could even see Mt. Rainier, just a tiny, ghostly two-peaked nub on the horizon: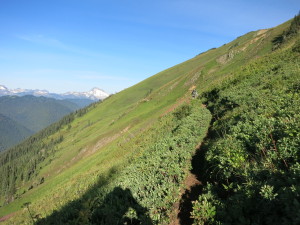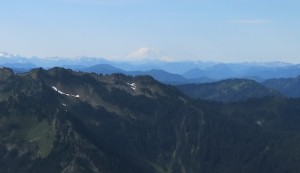 We came around the west side of Glacier Peak and dropped down into the dense forest on its flanks.  This entire section had been closed from 2003-2011 after massive flooding.  The trail through here was completely obliterated.  Leftovers from the devastation were all around us we hiked through the nearly-silent woods – but the path was in great condition!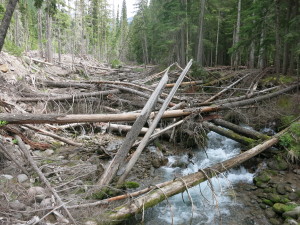 The trail to Kennedy Creek was rocky, muddy and very overgrown – a testament to how difficult this remote section is to maintain!  The bridge over the silty creek had suffered some backbreaking damage but still worked fine for our purposes: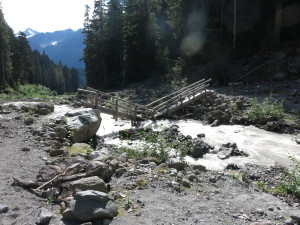 Afterwards we faced a long climb up the side of the mountain.  Good camping spots were suddenly rare and we pushed on longer than we'd expected, but were treated to luminous alpenglow at Fire Creek: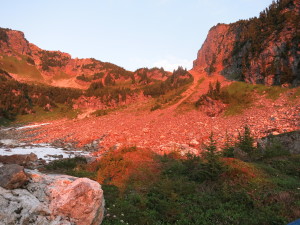 The next day took us over Fire Creek Pass: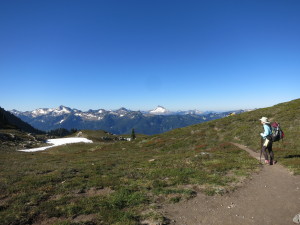 And down, down, down nearly 3000 feet to Milk Creek, where we had lunch with a thru-hiking couple we met in 2013! We first met Scattracker and Unicroc on Mother's Day a month into our hike – an easy day to remember, since it also featured trail magic in the form of root beer floats in the Mojave Desert.  They had also been stymied by the weather last year and were back to complete the trail.  They were in much better shape than us since they had just finished hiking the Long Trail in Vermont. We felt so lucky to have bumped into them!  After eating they left us in their dust as they zoomed (and we plodded) up the long climb. Just like on the Wonderland Trail, what goes down a glacial valley must come up, and it was a hot, overgrown up: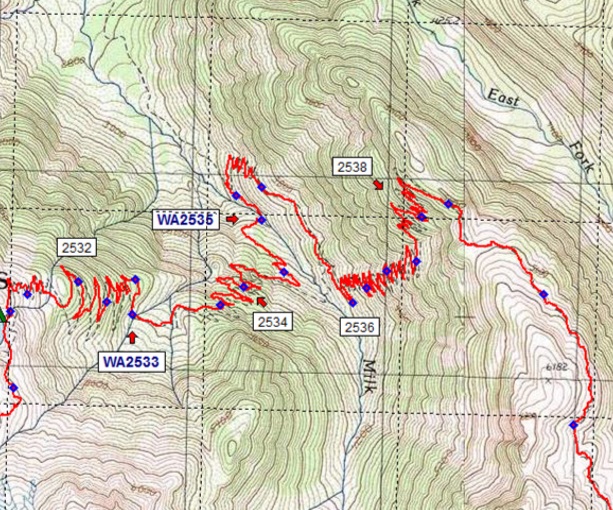 We finished the day in fine fashion, in an eastern-facing meadow full of flowers and fat marmots: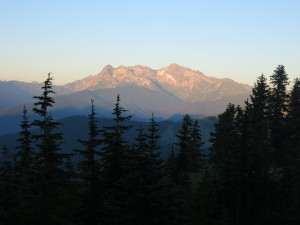 The next morning took us down another long, gentle descent to the chocolate-milk-filled Suiattle River. We climbed over what felt like hundreds of downed trees: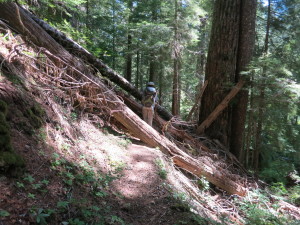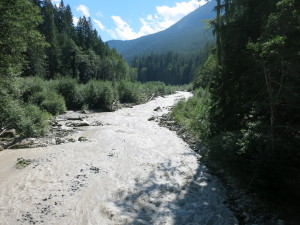 The climb back up wasn't as steep this time, and at the top we had a cozy little campsite all to ourselves.  The next morning we tackled the last ridge between us and Stehekin.  At the top it seemed as though we could see the entire valley stretched out in front of us: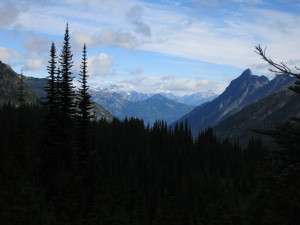 We followed a fork of Agnes Creek, crossing the many side streams: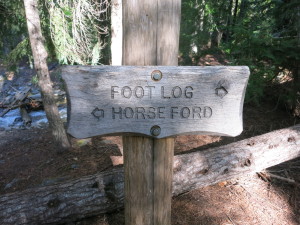 But were too slow to catch the last bus of the day into town.  So we camped a quarter-mile from the road and let the Stehekin River lull us to sleep.  The next morning we were up, packed, and hiking in record time.  Our hiker hunger was back, and after a week of dehydrated meals we were looking forward to the bakery in town.  What's the best way to spend $60 in 30 seconds?  Put two hungry hikers in a pastry dreamland: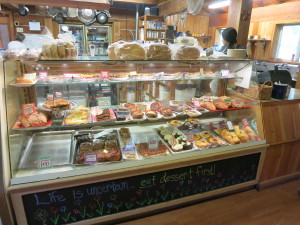 It was like Rodney Dangerfield in the Bushwood Pro Shop.  We bought pastries for our first few lunches back on the trail and pizza pockets to replace the breakfast granola neither of us had any appetite for. Another short bus ride brought us to an organic farm where I satisfied my craving for fresh fruit: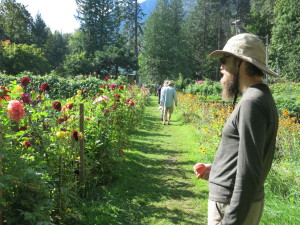 Then we arrived at the landing, where we ate, did our laundry, picked up our resupply package, ate, got a camping permit for the national park, ate, and generally enjoyed our day off.  Much nicer weather than last year!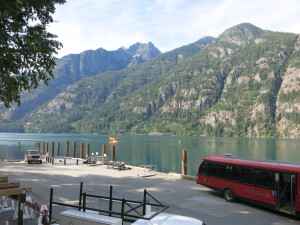 The next day we returned to familiar trail as we hiked north along the Stehekin River.  We passed the spot where we spent the final night of our hike almost a year ago.  Shortly afterwards we crossed Maple Creek on a suspicious-looking suspension bridge – a nice alternative to the long, frigid foot crossing of last time.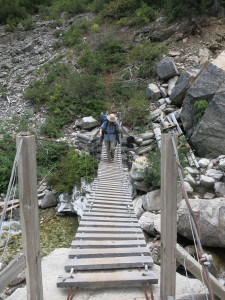 It was a long, gradual uphill to Highway 20.  Just before the trailhead we passed The Mayor, a northbound thruhiker who had flip-flopped to the Canadian border and was now hiking south to California.  We ended up chatting with him for two thoroughly enjoyable hours, swapping stories about our PCT hikes and talking about the Appalachian trail. It was nice to be able to take such a long break without worrying about the time! The highway appeared soon after we said our goodbyes and hit the trail again.  The last time we'd been here low clouds and falling snow had blocked out views of the peaks around us, so we had lunch while we took it all in:
Lunch was our last few pastries from the bakery. People can say what they want about empty calories from fat, sugar, and flour, but they perked us right up.  The next 5 miles – a long climb to Cutthroat Pass – flew by with little effort.  Low-hanging clouds drizzled on us and then broke up as we reached the saddle.  What a vista!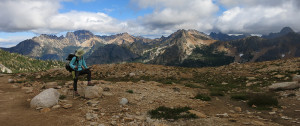 It looked like a painting.  Strange to think that we had stopped just short of this view last year.  I tried to imagine it under a few feet of dense snow and figured that we had the better end of the deal here and now.
We cruised over solid trail carved out of scree slopes and camped at one of the first flat spots we found, just short of Methow Pass.  The next morning brought another milestone: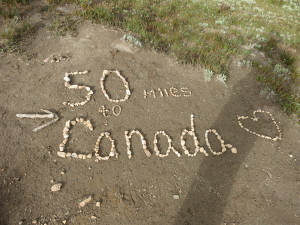 followed by a long trip down into the Methow River valley and out through Glacier Pass.  That night our campsite was invaded by deer: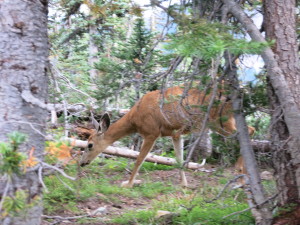 They hung around all night grazing.  Whenever one of us turned over on our mattresses they would snort and stomp as though they'd forgotten we were there. The clouds moved in the next morning as we hiked toward the last road crossing of the trail: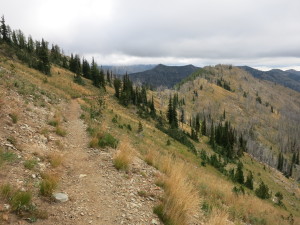 After lunch the clouds finally made good on their threat and started to rain: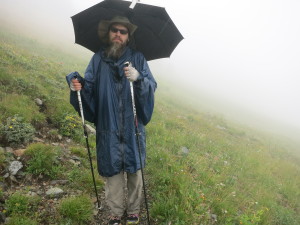 It got colder and clammier as the day went on.  We camped at a popular spot, arriving just in time to squeeze into a nook near some other tents, and jumped into our cozy bags.  The night stood a good chance of being our last night before the border!  It rained on and off until morning.  It was tough to force ourselves up and into the cold, but we took advantage of a break in the rain to pack up the tent and don our ponchos.  As we climbed to higher elevations the clouds lifted a little and we saw that the peaks around us had gotten a dusting of snow.  Not enough to stop us this time, but it did add a kind of bittersweet callback to last year as we finally finished our journey:
Thanks to the low clouds the view changed from minute to minute.  For long stretches everything was gray and misty, but then the clouds would part just a little and we'd catch glimpses of faraway peaks before our world narrowed down again. We started our descent to the border above Hopkins Lake: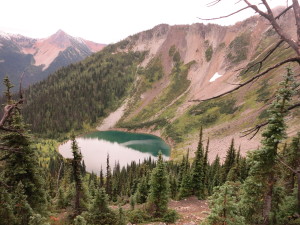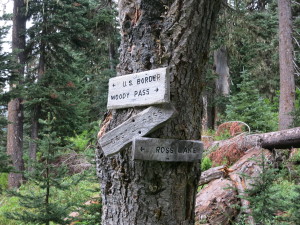 The clouds cleared as we hiked down a long tunnel of forest: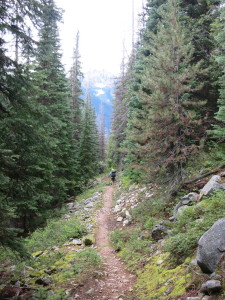 And there was the monument, in the middle of a 10-foot wide clear cut strip that marched up the mountains to either side:
After so many miles, we managed to avoid getting lost on the way to the road: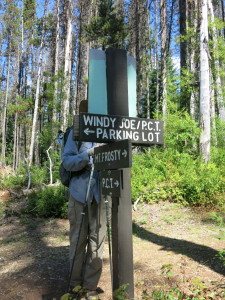 And ended up at the park lodge, where we treated ourselves with the most Canadian of rewards: poutine!  We made it!